The cats in our Rouges Gallery below are either virus positive, quite old, feral or sick so their upkeep is quite expensive. We hope other cat-lovers will come to their aid to help us to look after them.
By sponsoring a cat yourself or as a gift for a loved one you'll become a Friend of the Cats for a minimum of £6.50 a year and know that your generous support is providing shelter, food and medical care for our cats - the love is free!
Candy Strip
This little lady is very nervous and likes to keep her distances from us humans but with every day that passes she learns to trust us more and hopefully will soon realise that we only want to love her and keep her safe and well fed.
Candy Strip like most of our feral cats that we have trapped have had no human contact so like to keep their distance and that is fine with us just as long as we know they are safe and well.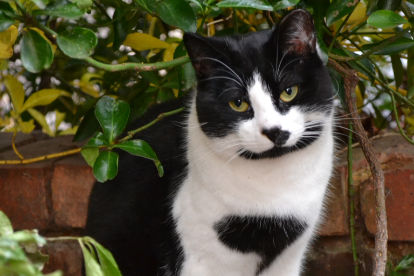 Wilma
This little lady was one of three cats taken from a house in Ilford. The lady thought Wilma was expecting kittens so we took immediate action on collecting them which actually was really hard as the lady had let them enter her open plan house including the space into the loft!!
We got 2 cats that Saturday morning but Wilma was in the loft, she came out during the night apparently and squeezed into the upright freezer and the lady called the Fire Brigade to get her out!! And to top it all, Wilma was already neutered. Sadly, Wilma never tamed sufficiently for homing although the other two cats did find a home of their own.
Mag 7
Perhaps we ought to change the name to Magnificent 11 as we have seen 11 black cats eating at once, very difficult to tell apart, although a few of them we can.
All seem well although one, a female we originally called Susie, cost over £600 to have a polyp removed but that was three years ago. As an experiment to try to give them their own names, we put collars on two and duly called them Teddy and Slim but the collars were soon lost and now they are collectively known as the Magnificent 7!!
Chico
Chico is such a handsome lad but a little foolish as we thought we would find him a lovely home of his permanently based with the charity in Cumbria and loving life in the country.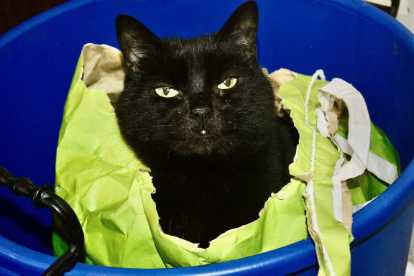 Nayla
This cheeky little Lady is into everything including the litter sack!!! She loves to play hide and seek and despite being feral and wary of us humans she loves her fellow feline fiends and can often be found running around chasing one of them. It is always a pleasure to see the cats play.
Toby
This little lad is a typical tom cat who, once neutered, became a wonderful lap cat and he loves to sit with Joan in the conservatory. Unfortunately he has ongoing health issues with his eyes and stomach so we have decided he can be one of Joan's house cats.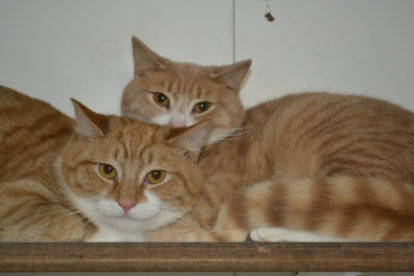 Scooby & Doo
These are two of five cats we removed from a garden in Goodmayes, Essex. They are striking colours so we would love for them to tame up, although we have not given up completely on finding them both a loving home.
Sadly, they were 8 months old when trapped and with no human contact it will take a bit of time to get them human friendly, but in the meantime they will have a loving home at the shelter in the country.
Cinderella
Cinderella was trapped very near Heathrow Airport in February 2018. She is not totally feral and by giving her a piece of chicken, as she bent down to eat it I was able to get her microchip number and she is now known as Cinderella - which is a much better name than 'Heathrow'!!!.
She has a slight curve with her eyes but we find her extremely beautiful and hope you do too. She's still learning to trust us, one day we hope she will enjoy being fussed as much as she likes chicken.
Buzz
Buzz is the most adorable cat and likes nothing more than to climb on your lap and snuggle. This makes trying to take his photo almost impossible, I end up talking to him like a dog i.e. 'Sit' or 'Stay' but of course he does not listen as he is intent on having a cuddle.
He has been under the vet ever since he was trapped - we think the corona virus is to blame. He's a sweet natured boy who loves to lay in the sun and watch the world go by, when he is not trying to sneak on my lap!!!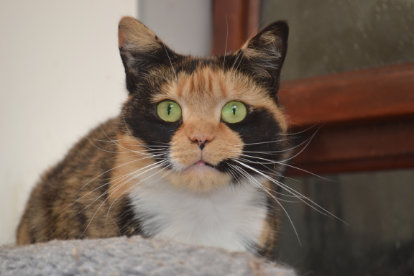 Mabel
This beautiful girl came from a group of 30 cats and kittens trapped at Marney Road, she was only a kitten when trapped as we have her DOB as 05/08/2017. We managed to home quite a few of the kittens but Mabel would hiss and lash out when you went near her and stayed close to her feral mum so she never quite tamed up enough to be homed. Being semi feral means occasionally she lets me get close enough to take a photo.
She is happy to be with the other Marney Road cats that were too feral to home and she seems very happy with her own little cat family.
Paloma
You must agree that this is a beautiful cat but I cannot sadly remember her history, only that she is at least 8 years old according to her veterinary history. Much to my surprise, she now allows me to stroke her and she quite enjoys it, arching her back which is saying 'more strokes please'. She loves to spend time in the conservatory stretched out on the underfloor heating and now that we have some sunny days enjoying lying in the sun.
Paloma is such a wonderful cat who just loves to laze around and enjoy life.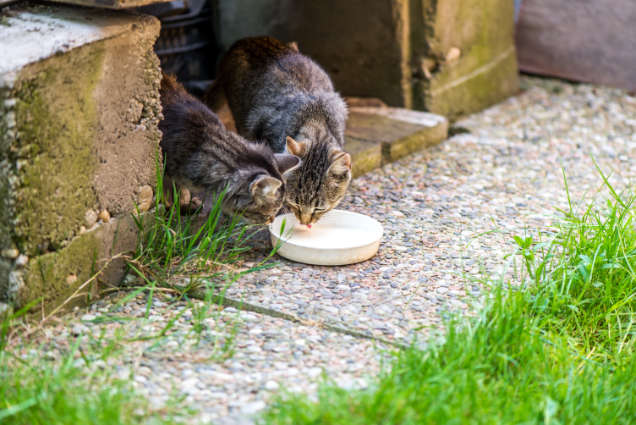 How Can You Help?
To sponsor one or more of our cats, for yourself or as a gift, please click the donate button below and contribute a minimum of £6.50 per cat, of course if you wish you can donate more. Thank you.
If you pay income tax and would like us to claim Gift Aid on your donation, please tick the 'Yes to Gift Aid' box or download this form. More information on Gift Aid can be found on the GOV UK website.